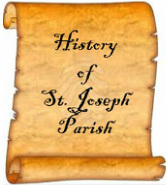 In 1891, Archbishop John Ryan sanctioned and authorized the Sunday celebration of Holy Mass in Spring City and Royersford. Rev. Thomas Quinn, then pastor of St. Mary of the Assumption, Phoenixville, determined the time and place. The first Mass was said in the home of Mrs. Francis Sherry on Pikeland Avenue in Spring City. The Spring City Sun reported "There were over 50 adults present besides a large number of young people. It is proposed to hold services once a month…"
In July of 1916, Rev. Michael Collins, then pastor of St. Mary of the Assumption, was commissioned by Archbishop Prendergast of Philadelphia to obtain property in Spring City. On August 16, 1916 a newly acquired church was blessed and dedicated to St. Joseph. The first Mass was celebrated by Rev. James Gavin. It remained a mission under St. Mary of the Assumption until April 6, 1919 when Rev. Charles L. McCarron was appointed the first pastor of the Twin-boroughs (Spring City & Royersford). With financial help from his family, he was able to buy a home at 256 New Street in Spring City, which he later turned over to the Archdiocese of Philadelphia.
In the late 1960's, Rev. Joseph E. Fitzpatrick saw the need for a larger and newer church for Spring City. With a loan from the diocese, he purchased a large track of land on Route 724, the current location of the church. The enthusiasm from the parishioners was great, and the new church of St. Joseph was dedicated in spring of 1968.
Former Priests
St. Joseph Parish has a wonderful legacy garnered from the rich background of religious leadership the parish has been fortunate to experience over the past decades.
Rev. Charles McCarron, Pastor 1919-1925
Rev. Bernard J. McGinnis, Pastor 1925-1930
Rev. Joseph J. Conway, Pastor 1930-1954
Rev. John Morley 1932-1934
Rev. William Geary 1934-1936
Rev. George McCullough 1936-1938
Rev. Francis X. Dreger 1954-1955
Rev. Thomas W. McGuire, Pastor 1954-1955
Rev. Lawrence F. Kelly, Pastor 1955-1962
Rev. Cyril Ponisciak 1955-1958
Rev. Raymond J. Teller 1956-1958
Rev. William Cox 1957-1957
Rev. Joseph Martin 1958-1960
Rev. Joseph B. Tracy 1958-1958
Rev. Francis J. Opps 1958-1959
Rev. Leonard Furmanski 1959-1960
Rev. Raymond Waite 1960-1961
Rev. Robert Grant 1961-1963
Rev. Joseph E. Fitzpatrick, Pastor 1962-1968
Rev. Edward J. Haughey 1962-1962
Rev. Richard G. Jones 1963-1968
Rev. William P. Donnelly 1965-1965
Rev. Robert I. Reidy, Pastor 1968-1986
Rev. David L. Glancy 1968-1969
Rev. John J. Bradley 1969-1973
Rev. Thomas J. Corcoran, Pastor 1986-1988
Rev. John J. Dinda, Pastor 1988-2006
Rev. John A. Freeman 1990-1992
Rev. Michael W. Rzonca 1991-2002
Rev. Gregory J. Hamill 1999-1999
Rev. Donato P. Silveri 2000-Present
Rev. Robert H. Mulligan 2002-2005
Rev. John J. Sibel 2005-2006
Rev. Charles R. O'Hara, Pastor 2006-Present