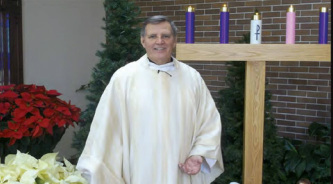 I am happy to welcome you to learn about our community here at St. Joseph's parish! For me, this is a perfect opportunity to deepen our faith as we journey with one another. Together, may we experience God's Presence in working and praying with each other in Liturgy.
By way of introduction, I want to tell you about myself. I am the oldest of twelve children. I was born in Milmont Park, Delaware County. I attended Our Lady of Peace Grade School and St. James High School in Chester. I graduated from the University of Notre Dame. It was my good fortune to play football for St. James and Notre Dame. My allegiance to both of these schools runs deep. I am a St. James Bull Dog and I may be somewhat "over the top" with my Notre Dame spirit! I strongly support Penn State (as long as they are not playing Notre Dame).
I attended St. Charles Seminary and was ordained for the Archdiocese of Philadelphia. I spent three years at St. Cecilia's parish in northeastern Philadelphia. I then taught theology at Bishop McDevitt H.S. in Wyncote, where I was appointed head football coach. I was assigned chaplain to Villa St. John Vianney in Downingtown and taught at Bishop Shanahan H.S. in West Chester. At Shanahan, I coached soccer, basketball, and golf.
In May of 2006, the Cardinal assigned me to minister to the people here in Spring City. I am truly blessed to serve all of you, and I look forward to meeting you and your family personally!