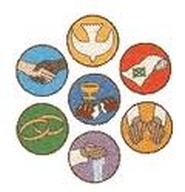 The St. Joseph Parish Community welcomes and celebrates with those who search for a meaningful life experience in Worship, Faith, and Sacrament.
The Sacraments of Initiation—Baptism, Confirmation and Holy Communion—are the three primary sacraments, on which the rest of our life as a Christian depends.
RCIA is the forum for adults to learn more about the Catholic Faith and to prepare to receive the sacraments. Children learn about the Catholic Faith and prepare to receive the sacraments in a Catholic School or through our PREP program.

BAPTISM
Sunday at 12:30 PM by appointment

HOLY COMMUNION
First communicants (2nd grade) receive the sacrament in the spring after completion of the FIRST COMMUNION PREP class.

CONFIRMATION
​Confirmands (7th grade) receive the sacrament after completion of the CONFIRMATION PREP class.

RECONCILIATION
Confessions are heard on Saturday from 3:00-4:00 PM

MATRIMONY
Couples contemplating marriage must contact the priest at least six months in advance to make an appointment to discuss marriage plans and arrangements.

SACRAMENT OF HEALING & MINISTRY TO THE SICK
Anyone unable to attend Mass regularly due to illness should call the rectory to make arrangements to receive Holy Communion.
If any member of your family is hospitalized, please inform the rectory so a visit can be arranged, as well as a remembrance in our prayers.